| | |
| --- | --- |
| | We celebrated Ashe's first birthday with a party at Farrell's in Portland, OR. There were 35 people there, including many, many children, most about Ashe's age and a couple quite a bit older. Farrell's wasn't the best place for a large party like that - simply because there wasn't much room. |
| | Ashe LOVED his cake. It was surprising how clean he stayed. He was somewhat timid about eating his cake. My sister maintains that he's afraid to get dirty. His mother spent the last year, wiping his mouth after every bite of food!! It was so cute: after a few minutes examining the cake, he did a face plant right in it. |
| | I think a fun time was had by all, regardless of space. Ashe received the nicest gifts and, as usual, everyone was way too generous. |
| | (by the way: on a previous page I said that I would post Ashe's latest weight and height after his one year check up. He weighs 22 lbs 13 oz and is 30 1/4". |
Ashe is going for it.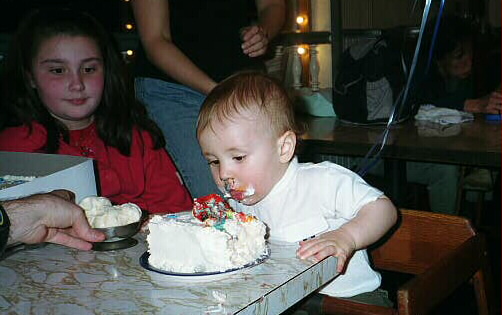 Me and my baby -- singing happy birthday.