Thumbnails were used to make the page load faster. Click on a picture below to enlarge.
Ashe in Molokini - dad's trying to get him to snorkel!

Mom and Ashe. Neither of us like snorkeling.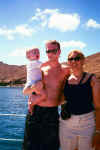 The happy family.

Auntie and Ashe (we were here for Aunt Caver's wedding).

Janice, Caver and Megan (Dennis' sister)
Ashe, Janice and Janice's Godmother, Mary.
Josh and Ashe
[ Ashe -- 1-2+ months old ] [ Ashe -- 3-5+ months old ] [ Ashe -- 6-8+ months old ] [ Ashe -- 6-8+, Part II ] [ Ashe -- 9-11+ months old ] [ Ashe -- First Birthday Party ] [ Ashe -- First Christmas and Millennium ] [ Ashe -- First Birthday Party Guests ] [ Ashe 1+ Year ] [ Ashe in Hawaii w/Mom & Dad ] [ Ashe in Hawaii II ]