CLICK ON THUMBNAILS BELOW TO ENLARGE PICTURE


Playing with his Elmo Racetrack that daddy bought.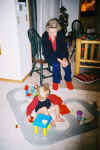 Grandma's watching closely...


The entire Sunriver group, minus mommy. She's taking the picture.


They're up to no good again!

Auntie Caver's everyone's favorite.


Andy, reading to the kids.


This is a good one of Dennis...can't really see Ashe.